2023 TEASR Featured Filmmaker Bios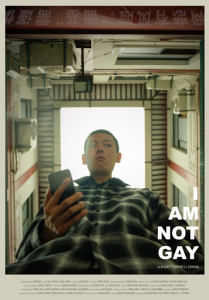 Li Zening, member of Ningbo Micro Film Association, judge of Beijing College Student Film Festival and Guangzhou College Student Film Festival. Short films such as "Original" and "Twelve" have won 50 honors in China European Film Festival, Macau International Film Festival and Beijing University Student Film Festival.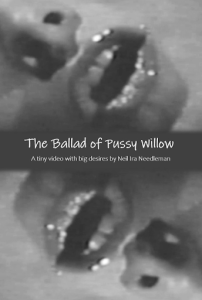 Film Title: Ballad of Pussy Willow
I was born in Brooklyn, New York near the middle of the last century, and began tinkering with moving images shortly after that. Throughout the decades, I've continued on my quest to develop a sense of vision that is honest, engaging, provoking, inspiring, and worthy of repeated viewing. Sometimes I actually succeed. And I am always thankful to the many film festivals that have screened my work over the years. It's nice to know that my images don't always fall on blind eyes.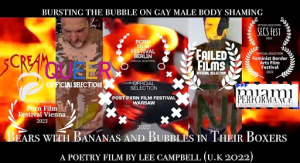 Film Title: Bears with Bananas and Bubbles in their Boxers
Dr Lee Campbell is an artist, performance poet, experimental filmmaker, writer, Senior Lecturer at University of the Arts London, and curator/founder of Homo Humour, the first of its kind project on contemporary queer male film and moving image practices that explore humour and LGBTQ+ storytelling and has screened all over the world since 2020. He is gay and lives in London.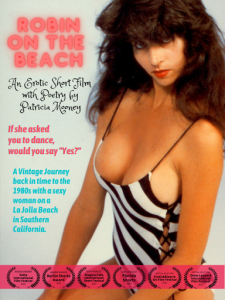 Film Title: Robin on the Beach
Patricia Mooney has been a storyteller all her life. She remembers casting shadows with her hands on the closet walls at night to tell stories to her brothers and sisters when they were children. She has been a video producer for the past 40 years, with a focus on educational and instructional videos. Recently she has begun to plumb the vaults of San Diego's first and only stock footage library, New & Unique Videos, turning vintage "hay" into "gold." In this video, "Robin on the Beach," Patty pays homage to the late Candida Royalle, who produced "kinder and gentler" erotic videos for women.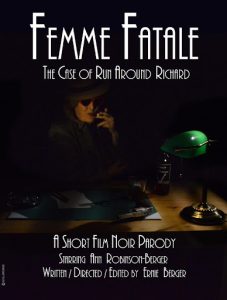 Film Title: Det. Femme Fatale
Ernie Berger has won 15 Tellys and various other awards as a director-animator of TV commercials, comedy shorts, and corporate videos. Residing in Sarasota, FL, he works now as a one-man animation studio, creating shorts that he enters into competition in film festivals around the world. By attending the festivals, Ernie enjoys seeing the audience reactions to his films. He usually has two films in production at any given time.
Ernie made 8mm films, just for fun, before entering film school (Master of Arts/University of Maryland 1976) and beginning his professional career.
A few years ago Ernie added writing/performing stand-up comedy to things he enjoys doing.
Film Titles: Celestial Bodies / Thots and Prayers
Ryan Suits (they/them) is a multidisciplinary artist based in Philadelphia. Their kaleidoscopic visual aesthetic is a hybrid of arthouse and lowbrow cinematic styles. Their work infuses kink & queer inspired sensuality into surreal femme-focused imagery through a variety of experimental photographic techniques. They enjoy playing with mixed media and giving permanence to the ephemeral. Their work explores a combination of long exposure photography, stop motion, stereoscopy, optical illusions, virtual reality, and anything else that will create vibrant fantasy worlds.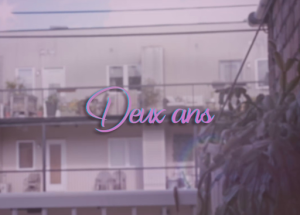 Active on the underground scenes in Quebec for more than 10 years, Gabriel has the opportunity to share the stage with several renowned artists such as Voivod, Grimskunk, Hubert Lenoir, Yonatan Gat, FET.NAT, Corridor, American Devices and many others. they participates in more than 15 albums as a composer, arranger and/or performer.
Meanwhile, Gabriel gains experience as a videographer and visual artist. In 2017, during his baccalaureate in visual art, they decided to launch himself fully into video. His first work was exhibited on the mosaic at Place des Arts in 2018. Since then he has focused on music videos and quietly slipped into the world of short films and post-pornography. they specializes in directing, editing and special effects.
Gabriel is a self-taught artist who explores the awareness of subjectivity as a creative force of reality. His work is politicized and poetic, always remaining tinged with queer culture and the anarchist community. Consent and relational cohesion are at the heart of his work.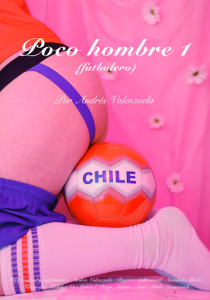 Film Title: Not man enough 1 (soccer fan)
Andres Valenzuela Arellano (1982, Santiago). Designer and Digital Producer (Technological Institute of Chile). Videographer and editor. Creator of the web archive www.registrocontracultural.cl
In 2019 he begins to consolidate his sustained work as a cameraman and video maker of artistic expressions of the local transfeminist scene and activism for sexual dissidence. His work has been developed hand in hand with outstanding chilean and collective artists such as Cheril Linett and her "Yeguada Latinoamericana" project, CÍA Locas putas y Brillantes in her work "Travesía Travesti" and "FAE Erotic Art Festival". He is currently part of the organization of the Exhibition "Excéntrico".
Werther Germondari, Victory Storary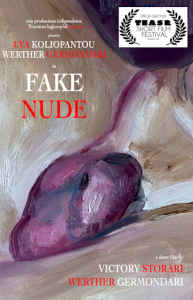 Film Title: Fake Nudes XXX
Werther Germondari is a nonbinary visual artist, independent filmmaker and performer living and working in Rome. Werther tells funny and surreal stories against a background of testing boundaries. With the help of his*her comedic talent, Werther playfully encourages political reflection. Werther identifies as a non-binary person. However, he has chosen to use the masculine pronoun for this biography: Werther graduated in 1988 with a scholarship to the Centro Sperimentale di Cinematografia in Rome, where he studied cinematography under the direction of Giuseppe Rotunno. He then graduated from the Institute of Theatrical Directing at the University of Bologna. During his studies, he was already interested in innovative, experimental, neo-conceptual and situational dynamics, characterised by a very strong ironic and surreal style. For many years, he experimented within these art movements using a wide variety of expressive media (from painting to installation, from photography to film, from video to performance). 
With his projects, he participated in numerous international group and solo exhibitions. As an independent filmmaker, he has often enjoyed collaborating with Maria Laura Spagnoli, his life partner, using her intense pansexual adventures as inspiration for many short films. The films have been screened at many festivals (including Cannes 1994 and Venice 1996) and distributed in European cinemas and on many international television channels. By now, many elements in Werther's work have changed. The desire for stories in which sex can also become an encouragement for political reflection led him to new projects. Starting with the script and filming of the episode "Smack" in 2016, Werther has sought to raise the artistic bar of his research of sexuality developed in "Tractatus logico-phileroticus". His latest short films could therefore be considered "post-porn" films due to the presence of sexually "explicit" scenes. But for Werther they fulfil a consistently narrative function. Explicit scenes in Werther's films serve to convey the extent to which a story can be told more (or less) effectively and the differences that arise when some stories are considered with (or without) the presence of explicit scenes. Or trying to create an explicit scene that is an essential part of the story, to the point that its omission does not allow for an accurate expression of the work's vision. All this is done in an attempt to undermine the public's superficial view of erotic and pornographic scenes, and to show that what seems scandalous is often trivial compared to the hypocrisy that dominates human social relations.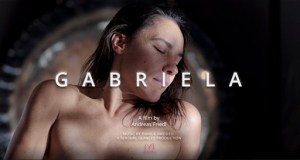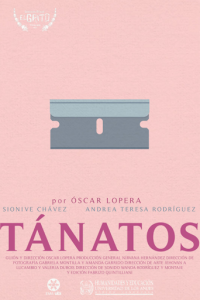 Born in Barquisimeto, Venezuela in 1997. Based in Mérida, Venezuela. Oscar is currently a photographer and a film student at the Escuela de Medios Audiovisuales of The University of Los Andes.
Jeremy, Danny, and Kelsey
location: Tucson, AZ (local)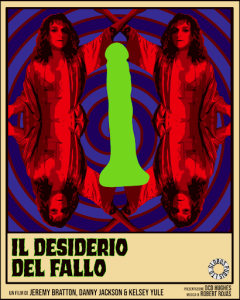 Film Title: Il Desiderio Del Fallo