Tucson Erotica is a registered 501(c)3 nonprofit in Tucson, Arizona
Your donation directly supports events and workshops that provide opportunities to erotic artists, performers, and educators who embrace sexuality and body positivity through artistic expression.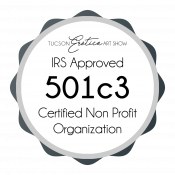 Help Us Meet Our Goal For 2023 TEAS
Your contribution inspires our efforts and the countless hours it takes to engage the community in a month-long exhibition of erotic art and film.
♡ Thank You For Your Support ♡
Leave us a comment or honor a loved one.