A month-long erotic art exhibit held each March, the Tucson Erotica Art Show (TEAS) hosts over 100 artists from Tucson and beyond showcasing their most provocative work.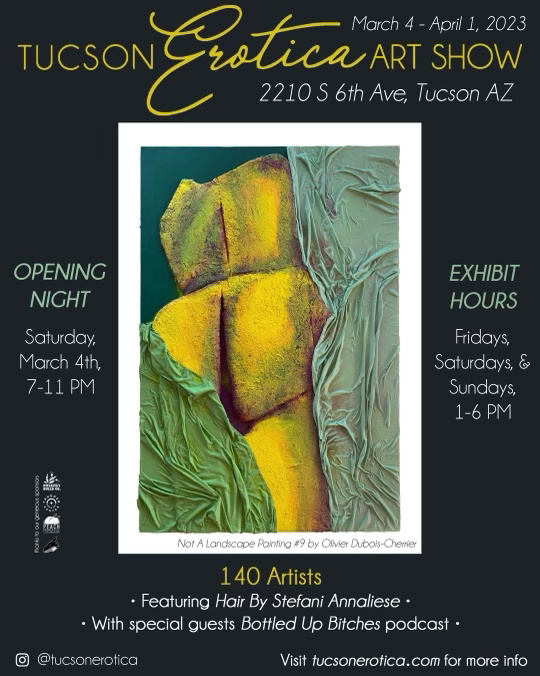 Opening night draws hundreds of visitors to take part in Tucson's sexiest evening of art, music, and performance. Opening night is also the first opportunity to enhance your collection by purchasing your favorite piece from the show.
The exhibit is open to the public on select days for viewing and purchasing of artwork during regular hours throughout the month.
Please note: Adults 18+ only unless accompanied by a legal parent/guardian (we encourage all legal parents/guardians to view the exhibit prior to accompanying a minor.) Opening/closing nights and most other special events are strictly 18+.
Erotic Art Exhibition & Events
Inside the gallery you can find our merch booth with official Tucson Erotica merchandise and other local products. Select dates feature a local sex/body-positive vendor inside the gallery offering fun products to our visitors, in addition to the amazing art on display. Erotica month comes to an end with a closing night party and final opportunity to purchase that special piece of art and participate in our mission to support our erotic community.
As we grow and change, so does our capacity to expand the offerings that align with our mission and partner with other local organizations that encourage healthy sexual expression and a diverse, supportive culture around sex within our community.
As Tucson Erotica Art Show evolves we plan to add more workshops, seminars, performance events, and interactive and immersive experiences in and outside the gallery. These additional sharing and support opportunities for local artists, performers, practitioners and educators will all center on the fusion of art and eroticism, expression, affirmation, exploration, and healing.
"Tucson Erotica Art Show removes stigmas around sex" by Alexandra Pere Tucson Weekly March 17th, 2022
"Tucson Erotica show destigmatizing sex, body image through art and education" By Ella E. McCarville, El Inde Arizona March 3rd, 2023
"Take a Peep at The Tucson Erotica Art Show." By Mark McLemore March 31st, 2022
"Tucson Erotica Art Show: A Live Journal!" By Bottled Up Bitches April 2023 
"Meet Myken Dahlen | Nonprofit President, Event Organizer, Artist, Performer, and Sex Work Advocate" Shoutout Arizona May, 2023
"The Annual Tucson Erotica Art Show" By Tony Ray Baker Gay Tucson 2022
"Exploring Life & Business with Myken Dahlen of Tucson Erotica" Voyage Phoenix September 20th, 2023