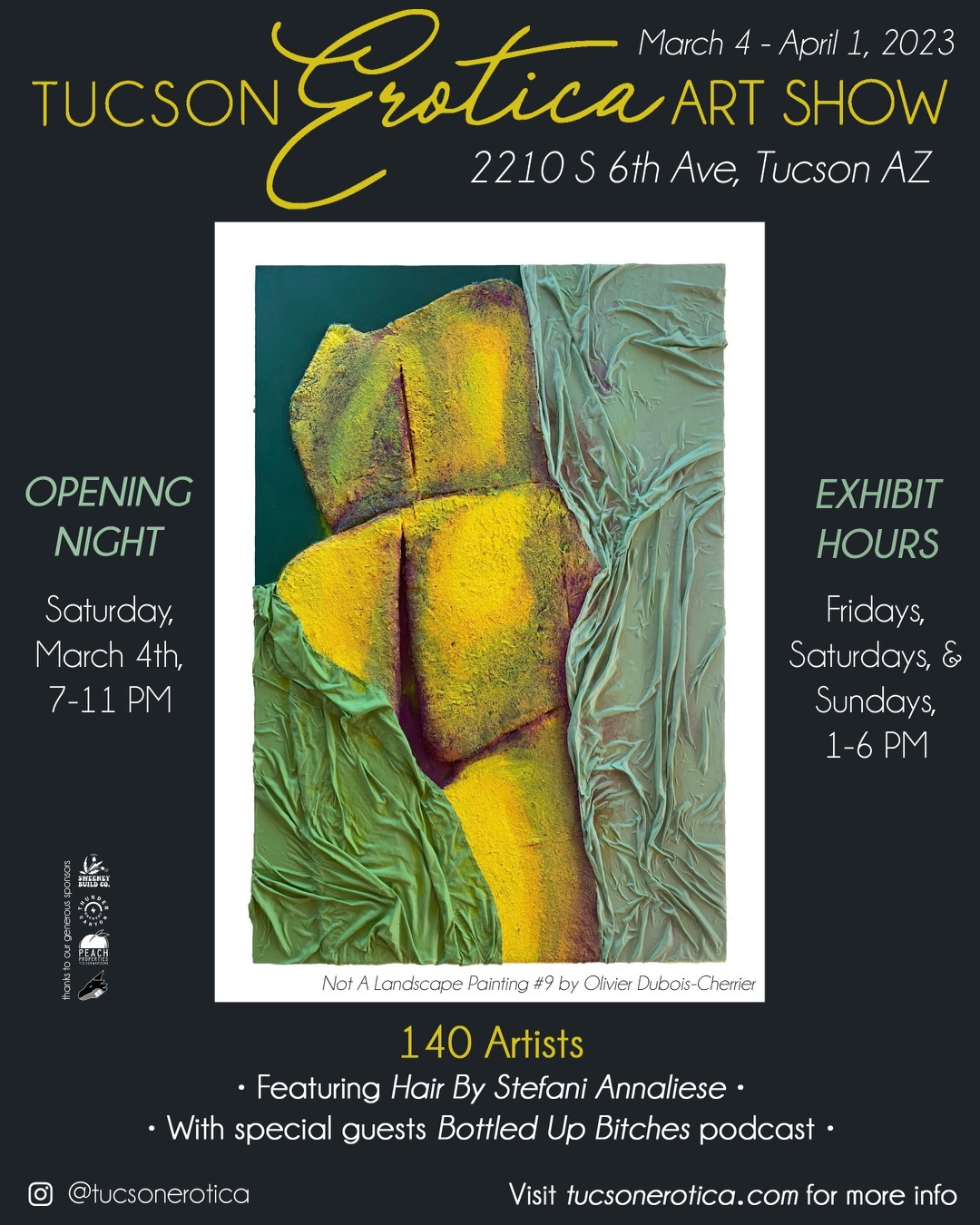 Tucson Erotica Art Show – Opening Night!
Join us to celebrate Opening Night of the 2023 Tucson Erotica Art Show! Tucson's sexiest party featuring erotic artwork from local and international artists, performance art and a DJ to start off a month-long schedule of events.
March 4th, 2023 7pm – 11pm
South Beach 2210 S 6th Ave, South Tucson AZ
18+ only
Entry: Sliding scale $10 – $20
Sexy/kink/fetish attire highly encouraged! (Please no exposed nipples or genitalia)
Hosted by: Erotica Powers 
Featuring: Robertitx
Performances by: 
Featured exhibit: Hair by Stefani Annaliese
Special guests: Bottled Up Bitches podcast
*Every attendee will be asked to read and verbally agree to a Code of Conduct/Content Warning upon arrival.  Please note that Tucson Erotica events are art events and NOT play-parties or spaces to seek sexual gratification.  Do not attend a Tucson Erotica event with the intent to engage in voyeurism (watching others) and/or exhibitionism (exposing yourself/being watched) for sexual gratification.  If we find consensual sexual behavior (beyond healthy public displays of affection) between couples or groups to be disruptive to the appreciation of the art work, we will ask you to take that activity off the event premises.  This is an 18+ public event, we recognize that different people in our community are at different levels of their sexual-awareness and healing journey, please keep this event a positive experience for yourself and others by having the upmost respect and self-regulatory behavior.